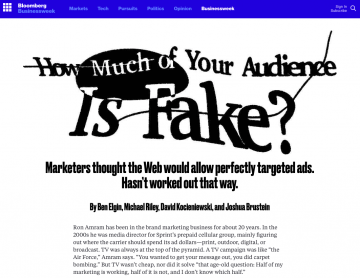 Hi all,
Zoe and I will be presenting February 15th on internet advertising and a number of unique issues which it raises. To give an idea of what we will cover, please see our our full discussion outline below.
Reading Materials
Please have a look at the following reading materials in advance of our discussion:
How Internet Advertising Works
Advertisers

(often, but not exclusively) use…

Ad networks

(such as Google DoubleClick, Taboola, etc.) to place links to their websites or content on the pages of…

Publishers

(e.g., newspapers, blogs, other various web sites) to draw in…

Audience(s)

(you!).
Current Issues
Privacy & Tracking
The modern online advertising industry is built on the collection of user information. What (legal) privacy limits should be imposed on this?

Also, consider implications with regards to "big data" and government surveillance—even if current practices do not offend privacy rights, the retention of user information could present a problem in the future.
Deceptive & Fraudulent Advertising
Are current regulations and regulatory frameworks effective?

Do traditional consumer protection models even work in this context?
Adblocking & the Sustainability of Advertising as an Income Model
Content creator appeals to ethos & the morality of refusing to be advertised to: asking the audience to turn off Adblock?

Potential different models: sponsored content or affiliate links?

When and why do we turn off Adblock and consent to see advertising?